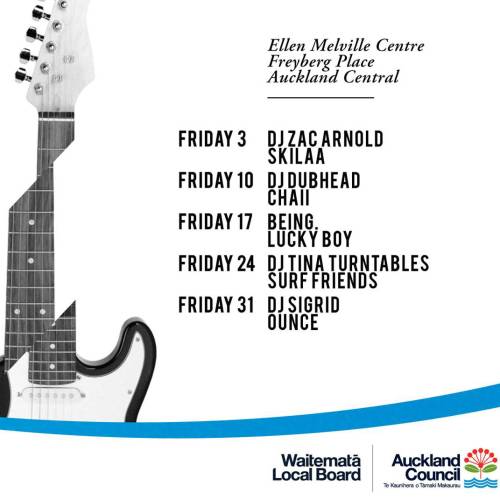 Celebrate NZ Music Month this May at Ellen Melville Centre in Central Auckland with FREE weekly live music every Friday, thanks to radio 95bFM, plus a fantastic FREE Punk and New Wave Poster Art projected exhibition showing 24/7 in the Helen Clark Room!
95bFM and Ellen Melville Centre present, a month of FREE live music shows every Friday during May to celebrate NZ Music Month! Come along to Ellen Melville Centre for the live to air 95bFM's Drive show with Jonny & Big Hungry. Drop by/hang out, play games, win prizes and check out live sets from;
Friday 3rd May - DJ Zac Arnold / Skilaa
Friday 10th May - DJ Dubhead / CHAII
Friday 17th May - Being. / Lucky Boy
Friday 24th May - DJ Tina Turntables / Surf Friends
Friday 31st May - DJ Sigrid / Ounce
*DJ's will play at 5.10pm and bands will play at 6.10pm. Thanks to NZ on Air!
Last updated:
27 June 2019