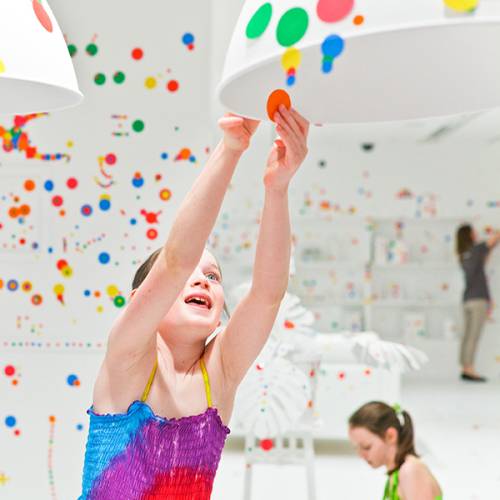 Avant-garde Japanese artist Yayoi Kusama's The obliteration room family-friendly participatory installation is making the Gallery's Creative Learning Centre home on Saturday 9 December.
The iconic installation that has made waves overseas begins as a New Zealand living room drained of colour which will function as a blank canvas ready to be invigorated.​
The white walls, ceiling, furniture and objects in the space will be obliterated over time by the mass build-up of dots into a dizzying blur of colour as visitors apply brightly coloured stickers in various sizes to every surface.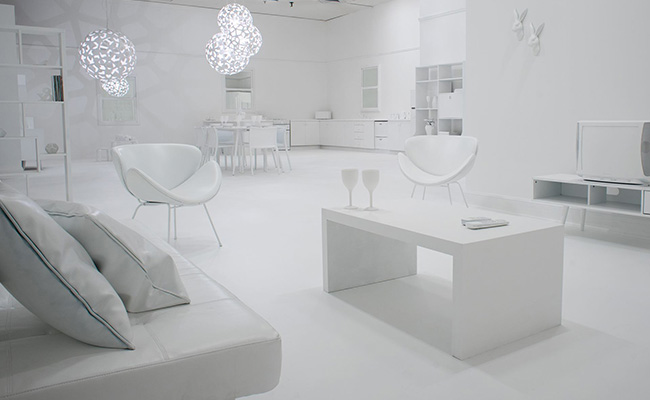 The goal of the installation is to inspire the artist inside us all. Moving away from the traditional restrictions of a Gallery space, it encourages everyone to touch, engage and create in an entirely self-directed way.
The work relates to hallucinations Kusama began to experience in childhood, where her vision was clouded by spots. The obliteration room is a reflection of this hallucinogenic vision, as well as a way of embracing the whole world in a kind of overall pattern.
Born 1929, Kusama studied painting in Kyoto before moving to New York in the late 1950s. By the mid-1960s Kusama had become well known in the art world for her provocative happenings and exhibitions.
For almost 70 years Kusama has been engaged in a practice encompassing painting, collage, sculpture, performance, film, installation and environmental art, as well as literature, product design and fashion, including a collaboration with Louis Vuitton in 2012.
Now it's your turn to experience this fun and engaging work of art.
Image Credit
Yayoi Kusama, The obliteration room 2002-present. Collaboration between Yayoi Kusama and Queensland Art Gallery. Photograph: QAGOMA Photography.
Last updated:
12 June 2019