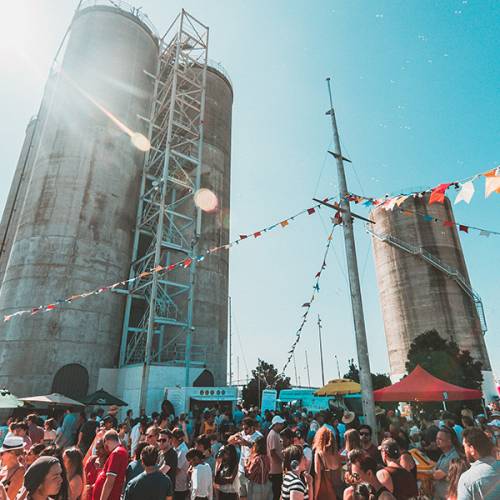 Nestled at the bottom of Wynyard Quarter, under the silos with a perfect view of the Auckland harbour, Silo Park returns with an exciting free whānau friendly line-up between 21 December and 31 March.
Each weekend starts on Friday afternoon at 5pm with the Silo Bar and an abundance of food trucks, making Silo Park the perfect place to wind down after a long week.
With a full tummy, you and your friends or whānau can settle in to watch the Friday night film, projected on Silo 7 from 9 pm. 

Every Saturday and Sunday features bespoke events with a rotation of DJs, community performances and workshops galore.
Silo Park Christmas

The Silo Summer calendar kicks off on 21 December with three-days of Christmas celebrations including the People's Choice film (Love Actually), Christmas activities including classic kiwi games, workshops and of course, Santa!
Silo Cinema

Silo Cinema features a collection of films even the biggest movie buffs will get excited about. From December to February, there are blockbusters, classics and a critically acclaimed film festival favourite, including:
The Blues Brothers - Friday 01 February
The Incredibles 2 -  Friday 04 January 
Solo: A Star Wars Story - Friday 08 February
Black Panther - Friday 11 January
The Princess Bride - Thursday 14 February
Jurassic Park - Friday 15 February
Shoplifters - Friday 22 February
As always, proceeds from popcorn sales at Silo Cinema are donated to The Auckland City Mission.

Other highlights in the summer calendar include "World on the Street" which has grown to a four-weekend feature. A celebration of Māori and Pasifika culture launches the series on 16 February. Africa, Latin America and East and South East Asia themed events will follow on consecutive weekends. Each event will feature gourmet food trucks from the region along with tailored music and entertainment.

Ice Cream Sundae is returning after a huge inaugural launch. With over 10,000 people attending last year, this year is set to be bigger and better than ever with more scoops to try, more activities and more fun!

Silo Park has become synonymous with great food trucks, and this year's programme is no different with more than 30 locally owned food trucks rotating throughout the summer. Each weekend will feature a different assortment to ensure your taste buds are always tantalised.

For more information visit silopark.co.nz or facebook.com/silopark
Last updated:
12 June 2019