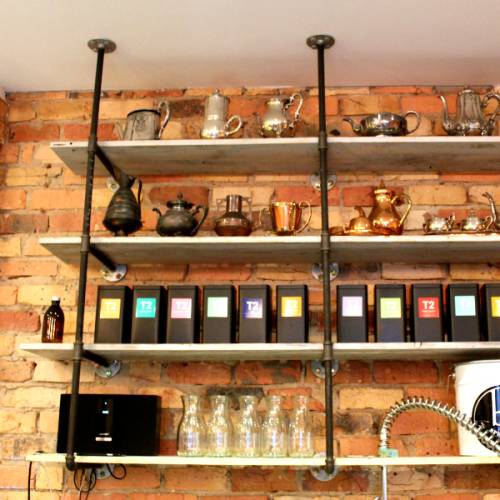 This That Cafe and Gallery offers a colourful breath of fresh air on Lorne Street.
Located directly opposite the central city library and (almost) next to the St James Theater, this vibrant cafe and exhibition space is the new gem of a street that is rapidly being restored to its former glory.
This That offer delicious and fresh cabinet food in a spacious setting that oozes a hip but always welcoming vibe. On our first visit our eyes were immediately drawn to the ceiling, fitted out with gorgeous copper piping and bespoke lighting fixtures.
The back wall proudly displays the cafes name entwined in a striking leaf mural by artist Erin Forsyth, speaking to the wholesomeness of the food and drinks on offer. 
It's exciting to see something truly different in a central city cafe. This That have an impressively extensive tea menu (in addition a full coffee menu) which they hope to extend to tea cocktail specials. For those of us inclined to an herbal blend with our morning meal this is nirvana, with all varieties coming from the popular tea brand T2. 
The minds behind This That are young but intelligent - Cherry Kim and Zoe McNicholas are design students from AUT living the dream with this delicious new venture. Their passions shine through in the gallery section of This That which they use to spotlight emerging talent, artists and other students. With comfortable seating in front of fireplace this area of This That is easy to sink into for a long lunch or an after work catch up with friends.  
Bravo to these stylish and bright young women - already champions of art and great food in the city. 
Last updated:
26 June 2019