The OuterLink is the easiest way to get around the inner suburbs of Auckland City. It runs from Wellesley St, past the Universities, through Parnell, Newmarket, Epsom, Balmoral, Mt Eden, St Lukes, Mt Albert, out to the Meola Rd entrance to MOTAT, through Westmere, Herne Bay and then back to Wellesley St. The buses are bright amber and operate on a frequent basis, so no timetables are required. 
Here are the best places to hop off in the city from the OuterLink route 
Wellesley Street is an all-you-need stop with shopping, dining and entertainment right at the stop or a few minutes walk away, here are the highlights of this area
Aotea Square  a beautifully designed outdoor area that is surrounded by the best theatres and entertainment in Auckland including Q Theatre, Aotea Centre, Event Cinema and The Basement. 
A short walk from Wellesley Street is Federal Street and the SKYCITY entertainment area. 
Cost
Normal bus fares apply - find out more about fares and zones here. 
Timetable
Monday to Friday: Every 12-15mins from 6.00am to midnight*
Weekends & Public Holidays: Every 15mins from 6.00am to midnight*
*Actual frequency may vary
Outer Link Bus Route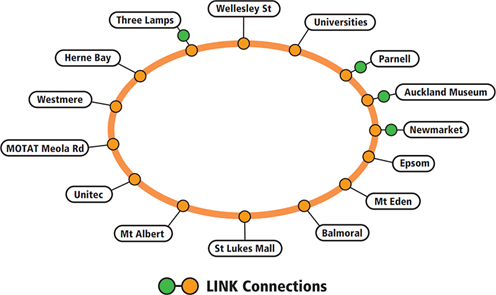 More about the OuterLink Bus
Links with trains and other buses
Convenient way to get around central Auckland and inner suburbs
Frequent services mean minimal waiting times
Air conditioned with designer comfort seats
Wheelchair and pushchair friendly buses
For more information click here.
Last updated:
25 June 2019