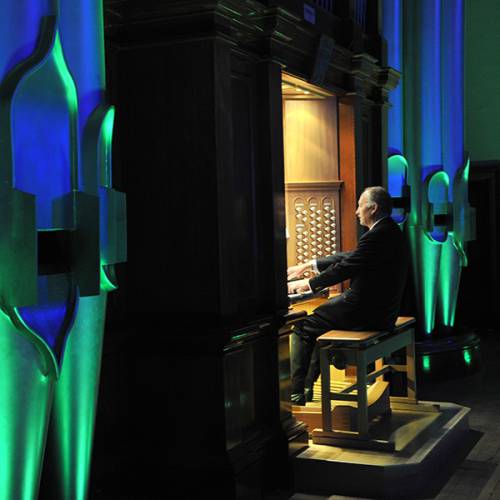 Kevin Bishop has no children but you get the sense there is one big 'baby' in his life – the Auckland Town Hall organ.
His passion for the instrument oozes from him: "It is a living, breathing thing," he says. "It talks, it moves, it is very responsive, it has 5291 pipes and every one of them speaks; it is a wonderful instrument to play, it has such great tone and power."
Occasionally when the organ is not being used and the auditorium empty, Bishop has been known to slip into the console, seat himself at the keyboards and play to his heart's content.
Bishop, a highly competent amateur organist and pianist, is chairman of the Auckland Town Hall Organ Trust, a body established in 2006 as the instrument's unpaid guardians.
He has a day job – general manager of the Selwyn Heights retirement village in Hillsborough – but was invited on to the trust after heading up planning for the 2010 inauguration of the new organ built by German company Orgelbau Klais.
His enthusiasm is infectious. When describing the organ tours which guide people through the insides of the massive instrument, he says: "People come away with their mouths shaking, they are quite overwhelmed at the grandeur of it."
Music has always been a big part of Bishop's life. His parents had a love of the art; both were singers and his mother also played the piano.
The family moved to New Zealand from England when Bishop was one and in 1963 at five, his mother asked him if he wanted to learn the piano; he said yes and his lifelong love affair with music had begun.
"I'm not a professional player, but I get a great amount of pleasure out of playing. It's something innate, something inside that stirs me, I have just got to do it." he says.
Armed with a music diploma in the organ and piano from Trinity College in London, he became a music teacher at schools in Hamilton, Wellington and Auckland being appointed director of music at St Kentigern College in 1986.
Although he has since moved to a career in business management he has kept up his playing – frequently performing at local churches, with operatic societies and the choir at Selwyn Heights. He has also played the town hall organ at corporate events.
"That," he says, "doesn't come any better. For me as an amateur to play an organ regarded by many as the finest town hall organ in the world, is the envy of many." Bishop says a full diary of organ concerts are in place for 2017 and every year three or four of the best international organists are booked to play.
The original organ installed when the town hall opened in 1911 was replaced in 1970. However in 2010 this was in turn supplanted by the current organ after it became clear the 1970 model was underpowered and lacking versatility.
# Four free organ concerts are held each year, the next scheduled for Sunday July 30 at 2pm featuring Benjamin Sheen, organist at St Thomas Church in New York. No bookings are necessary. However bookings for the organ tours are required and can be made at www.aucklandorgan.org.nz.
The article was originally published by Canvas.
Last updated:
10 July 2017