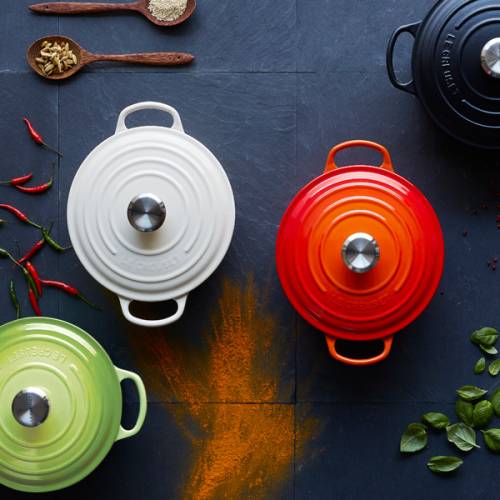 Take your taste buds on a culinary journey around the world with the new Colour of Spice cookware collection by Le Creuset.
Make perfect curry, biryani, and stir-fries with the spice-inspired products, including the spice tagine, woks, casseroles, balti dish, Indian condiment pots, spice grinders and more.  
The stunning colour palette of bright red, orange and green will brighten yup your kitchen and make the cooking experience even more enjoyable.
Le Creuset's Goan Style Fish Curry Recipe
To give you some cooking inspiration, here's a goan style fish curry recipe using a balti dish from Le Creuset that we'd like you to try.
Goan curries originate from the western coast of India where the tropical weather and readily available fish and shellfish strongly influence the cuisine.
This warmly spiced and aromatic fish curry is made with coconut milk, tamarind and jaggery giving a creamy, sour and sweet finish. Fresh baby leaf spinach and coriander added at the end of cooking adds vibrancy and freshness. 
Goan Style Fish Curry (serves 4)
Preparation time: 10-15 minutes
Cooking time: 25-30 minutes

Ingredients

2 tablespoon ghee or vegetable oil
2 white onions - sliced
3 cloves of garlic - minced
55g of root ginger - peeled and finely chopped
1 teaspoon turmenic
1 tablespoon ground coriander
1 tablespoon ground cumin
4 green cardamom pods - crushed with the back of a knife or a spoon
1 teaspoon course ground black pepper
1 red chilli - finely sliced - remove seeds for less heat
10 curry leaves - fresh or dried, optional
400g can full fat coconut milk
2 teaspoons tamarind paste
2 teaspoons jaggery or palm sugar
2 teaspoons fish/nam pla sauce - depending on taste
600g firm fleshed white fish - skinned, boned and cut into chunks
175g washed baby spinach
1/2 lime
Small handful of fresh coriander

 

 

      Method

Heat the combined ghee and oil in the balti dish, add the onions and cook for 8-10 minutes until softened and lightly caramelised. 
Add the garlic and ginger and stir fry for 1-2 minutes.
Add the tumeric, ground coriander, cumin, cardamom pods, black pepper, red chilli and the curry leaves; stir fry for 1-2 minutes.
Stir the coconut milk, tamarind paste, lapm sugar and fish sauce. Bring to a slow simmer and cook for 8-10 minutes until the sauce is slightly thickened and reduced by about a third.
Stir in the fish with half the spinach leaves, once the leaves have wilted add the remainder and cook for 2-3 minutes or until the fish is cooked through.
Adjust the seasoning to taste with a little salt or 1/4 or 1/2 teaspoon extra fish sauce if liked.
Finish with a squeeze of lime and the torn coriander leaves. 

  

 

 

 

 

 

 

 
Last updated:
08 February 2019