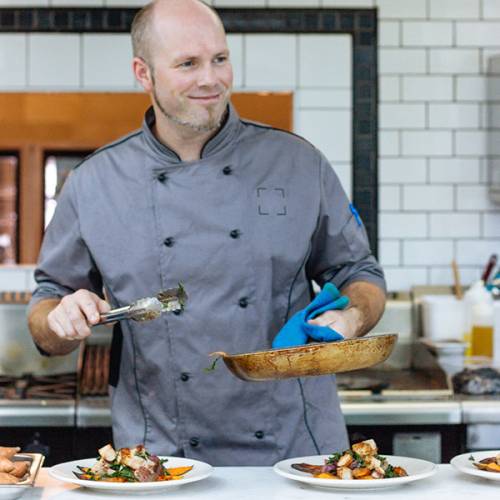 He is one of Auckland's best-known chefs, but as a kid J.J.Holland was advised against the job by his mother.
"She thought it would be very anti-social with horrible hours," he says. But, 25 years later with chef roles in London, Europe and Auckland behind him, Holland has never regretted his chosen profession.
All this experience he now puts into running The Lunchroom, a café he owns and which occupies the sun-drenched level one atrium of a 15-storey office tower in lower Queen St overlooking the waterfront and a busy downtown intersection.
Since opening over two years ago, the café has gained a reputation as one of the city's best eateries for healthy, delicious workday snacks and meals using sustainable and organic locally sourced produce.
But if Holland's mum had had her way his recipe for success may have led him down a different path.
"When I was at school I always said I wanted to be a chef and mum used to say 'look at your uncle' (an uncle was chef at a downtown Auckland restaurant); she didn't think his lifestyle was very good."
Ironically it was this uncle who gave Holland, then aged 13, his first taste of working in a kitchen.
"He called me up one day and said he needed someone to wash dishes. I was after pocket money so I went and there was no turning back.
"I did the job quickly and well and soon got given food preparation jobs in the kitchen."
Although he went to university after leaving school - where he got a degree in philosophy - Holland also took the time to qualify as a chef.
"I really did it because I wanted to travel and I thought it would be easier to get jobs overseas as a qualified chef. It was when I went to London (his first job was at Food at the Muse, a restaurant in a community art gallery) and began working with high-end ingredients I first became really passionate about cooking."
Overseas for five years - he also worked as an executive chef in Amsterdam - he returned to Auckland where he spent a number of years at cafes and restaurants operated by Hipgroup.
Owning his own restaurant was never a focus but that changed when he was approached by an industry associate to set up an eatery where The Lunchroom now is.
"It was one of those opportunities you can't turn down," he says. "We opened in January 2015 and it's been both an amazing and terrifying experience."
An advocate of ethical business practices and using locally sourced organic and wholefood produce where possible, Holland says this fact is not "hammered" into people. "We don't oversell this preferring the food and the experience to speak for itself.
"It is a very corporate environment where we are and most are not so concerned that the food is organic, they know it's delicious and keep coming back."
Has it been hard work? "Well, I've done over 100 hours some weeks, I've been here until 4am on other occasions, although I've yet to stay the whole night," says Holland.
These days however he has taken a step back from the kitchen: "I've realised you can't run a business from there; it's a different skill-set from being a chef, so I've stepped out and taken more of a general managers role."
The Lunchroom is at level one, 45 Queen St. Hours are Monday to Friday 7am – 4pm and is available to hire for after hours private functions.
- This article was originally published in Viva
Last updated:
24 August 2017