Take a break over the lunchtime period and refocus your thoughts by visiting one of the many comfortable outdoor lunch spots Auckland central has to offer. The city's diverse urban landscape features a variety of public seating areas such as the beloved Britomart Bean Bags in Takutai Square along with the oversized steps and wooden deck chairs on the far side of Wynyard Crossing Bridge. Taking a break from work is essential to maintaining one's health and wellbeing and Auckland city is all for it. So take advantage of the beautiful summer weather enjoy the city's wide range of great outdoor lunch spots.
Britomart bean bags | Britomart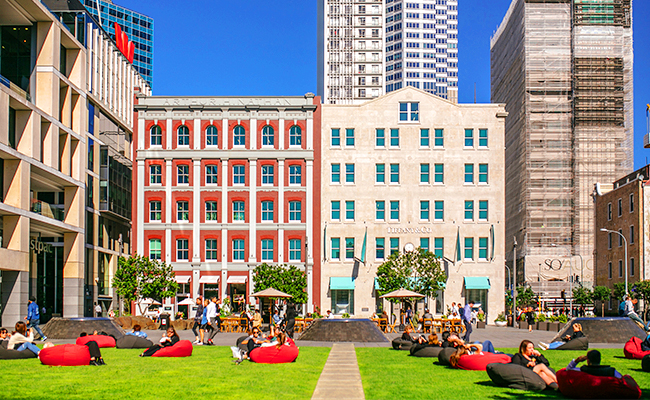 The Britomart bean bags are a great choice for a casual break. Dotted across the grass in Takutai Square the array of colourful bean bags becomes one of the most popular destinations over the lunchtime period in summer due to its open public setting and close proximity to a huge variety of great restaurants and cafés. Relax in the sun and doze off for a moment before heading back to finish off the day.
Vivace | 85 Fort Street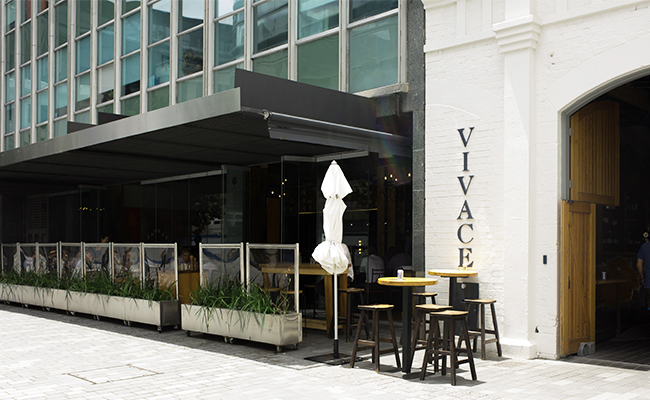 An elegant tapas restaurant tucked away towards the Beach Road end of Fort street, Vivace offers a Mediterranean escape which will leave you feeling rejuvenated, as if you had really just visited southern Spain. Partially covered seating is arranged along the street front and by 12:30pm the facade of Vivace is bathed in light.
Freyberg Place | High Street District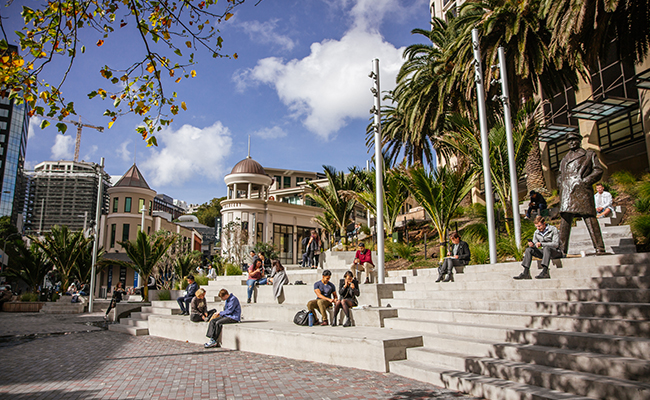 Freyberg Place is located in the heart of the High Street District, connecting High Street to the O'Connell Street shared space, Chancery Square and the Metropolis. Having been refurbished in late 2017, it's a wonderful open air public space for relaxing and enjoying the sunshine with terraced seating, a cascading 'stream' water feature perfect for kids to splash around in on a sunny day and native planting set around an open plaza for events.
Oyster and Chop | Market Square, Viaduct Harbour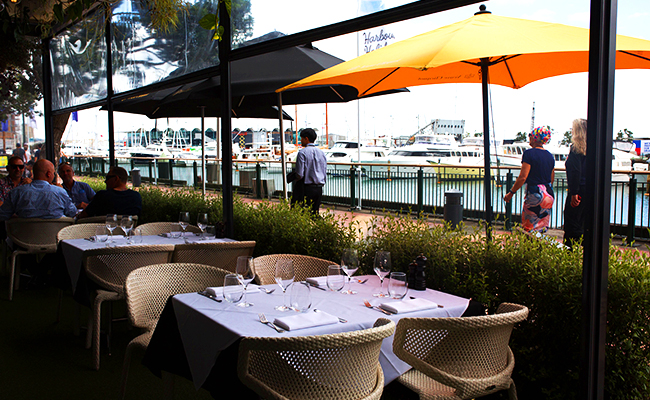 At the eastern edge of the Viaduct basin, Oyster and Chop offers a unique fine dining experience presenting a wide variety of speciality slow cooked meat and fresh fish. Perfect for a lunchtime meeting, the Oyster and Chop interior opens out to views of the Viaduct and with the option of the large table veranda seating, why not bring the whole team down to enjoy a carefully prepared meal.
Tom Tom Bar and Eatery | 27 Drake Street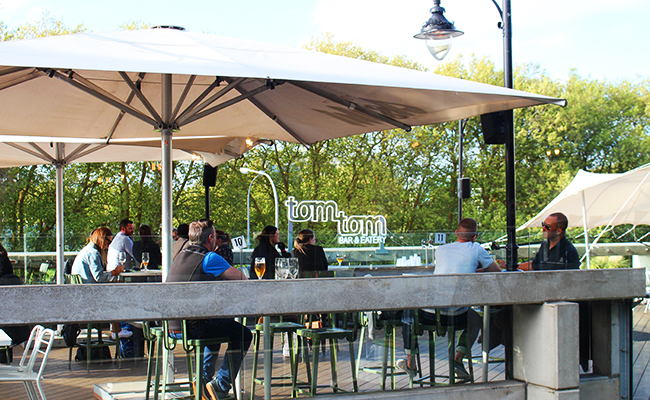 Just one street back from the southern side of Victoria park, TomTom boasts an expansive outdoor setting, having Auckland's largest rooftop deck. Enjoy views of Victoria Park and relax in the shade of an umbrella while snacking on a burger and chips or a delicious halloumi salad from TomToms new Express menu. A quick and easy lunch option with no compromise in setting, TomTom might soon become your go-to lunchtime destination.
The Kimchi Project | 18 Lorne Street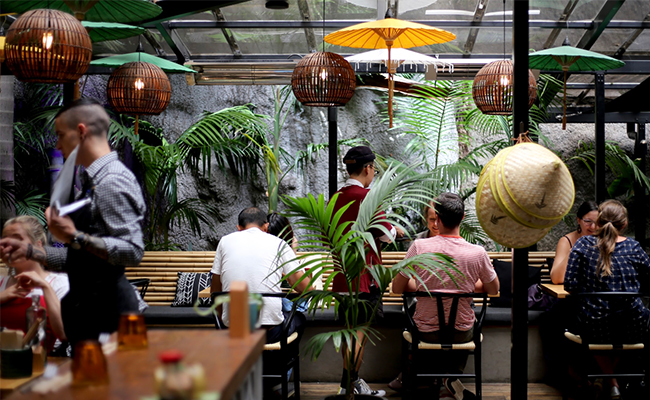 Experience one of Auckland's best Korean fusion lunch menus this new year by visiting The Kimchi Project on Lorne Street. TKP provides a lush, plant-lined, glass ceiling courtyard area in the rear section of the restaurant that will have you feeling like you're in a lush outdoor setting in which you can enjoy dishes ranging from Kimchi Capellini Pasta to Avocado Yuzu salad. Grabbing a quick coffee or cold drink is easy through the courtyards separate, fully equipped bar.
Steps by the water | Wynyard Quarter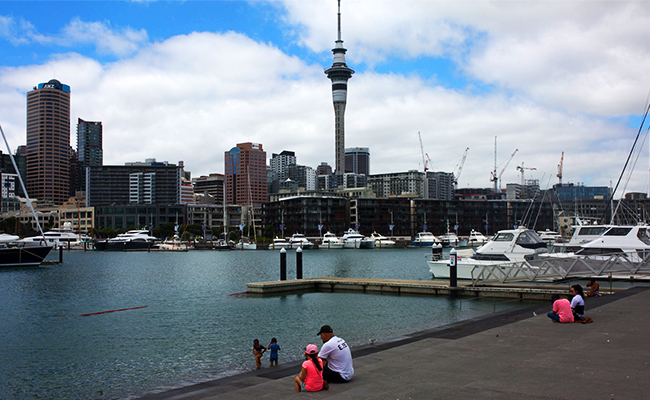 As a less frequented area of the Auckland waterfront, the oversized steps on the far side of the Wynyard crossing bridge present a great opportunity to recharge undisturbed in the light of the midday sun. Offering an interesting perspective of the Sky Tower, this location is worth the extra few minutes walk. To accompany the oversized steps this great lunchtime spot also includes oversized deck chairs, perfect to sit back with a friend and chat about the week, or weekend ahead.
Ortolana | 31 Tyler Street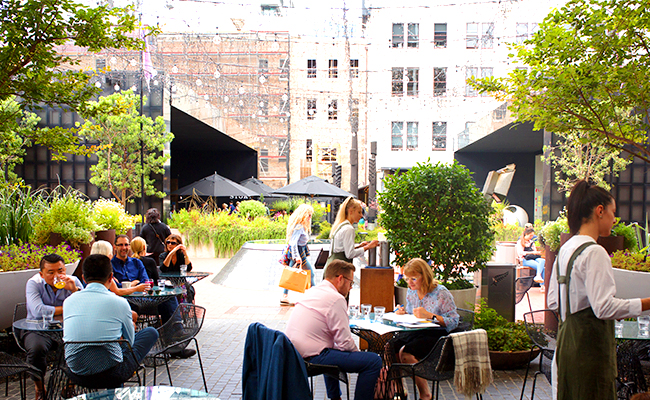 Ortolana, a Britomart favourite offers lunchtime visitors a shaded expansive conservatory in which to enjoy an Italian-inspired bistro menu. Pop in for a coffee or an extended lunch and experience the exceptional service and a range of delicious food. The international travel magazine Monocle has now included the Ortolana in its 'top 50 restaurants from around the world' two years in a row.
Last updated:
28 June 2019